Group Offer
ooking for a place to spend a weekend with friends, organizing a school trip or trying to impress your family?
Pyrland High Rope Course is a sport and recreational facility located in Poznan's forest near Lake Malta. We offer several obstacle-filled rope courses situated at different heights in the trees. Each rope course includes various obstacles designed for every kind of users: bridges, ladders, zip lines and so on. The average time required to finish a course is from 45 to 90 minutes.
Our team will ensure your child's safety at every step of the way. Each participant has to complete our tutorial before starting their journey. Pyrland Park Rope Course will also provide each person with professional and certified equipment. Additionally, the Children's Course has safety nets around every obstacle.
• The High Course – a dose of adrenaline, recommended for people in good overall shape who need a challenge. For 16 years' old and up.
• The Middle course – blends workout with fun. Suitable for teenagers or adults
• The Low course – a lighter, more gentle introduction to rope courses. Designed for older children.
• The Children course – a rope course and playground in one, equipped with safety nets. For 3-year-olds and above.
• Zip lines – a fast ride through the trees for children and adults alike.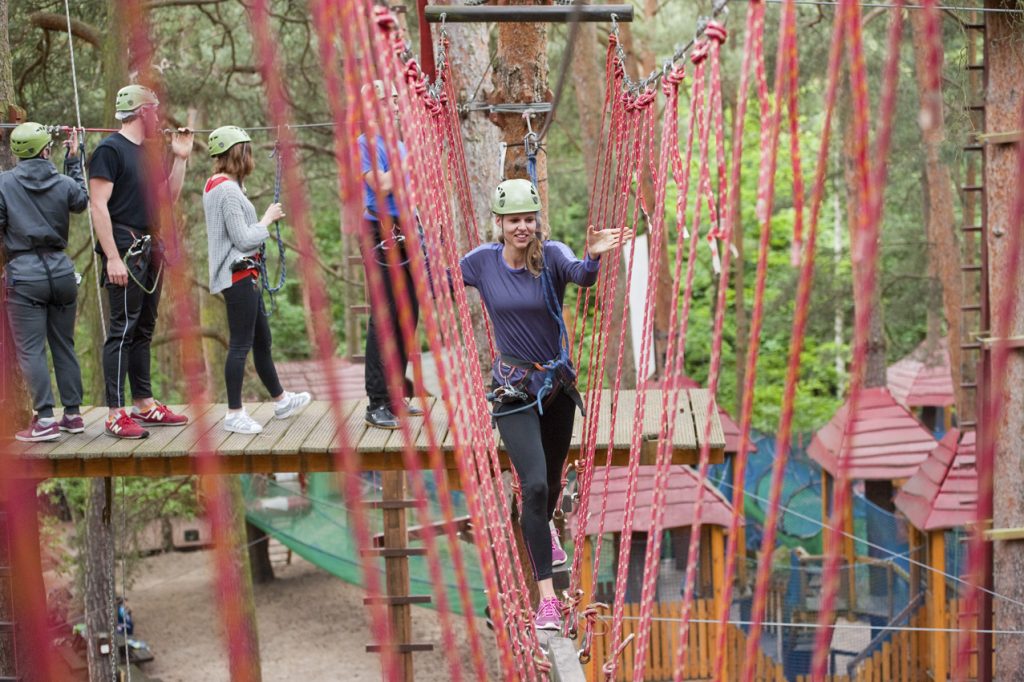 Besides all the rope courses, our park also offers other ways to spend time outdoors:
EcoPotatoes (in honor of the most beloved vegetable here in Poznan)
We'll be learning about ecology while playing various fun games.
Tipipark
Aren't you curious about the history of Native Americans? Join us to find out how to play rugby with a buffalo or build your own decorated tipi.
Pirates
Ahoy landlubbers! Always wanted to look for pirate's treasure? You're in the right place, my mates!
Survival
Could you survive in our forest wilderness? Let's find out together!
Workshops
We can organize a 1-hour workshop for your children under a watchful eye of our experienced and outgoing entertainers. – Paper Chase games, Mega Yenga, Kangaroo Jumping, Tug Of War. Each activity in direct contact with nature. 
While completing various tasks, the participants will define their roles, experience one's strengths and weaknesses, polish up teamwork skills. General and spontaneous struggles will help identify natural born leaders and perfect team communication. Simultaneously improving abilities like coping with stress or thinking more creatively.
Every challenge is followed by a large dosage of fun, all located in a forest located in Malta, Poznan.
At Pyrland Park we can organise fully catered events and dance parties. Our infrastructure includes:
Two large wooden sheds and one slightly smaller that can accommodate up to 100 people
400 seats at outdoor tables with benches
Campfires and barbeque grills
Facilities located in a securely fenced area measuring about 0,5 ha
Portable toilet Toi Toi Vip
A wooden dancing platform