Our offer
Choose from the attractions listed below to create your own event!
THE HIGH COURSE – dose of adrenaline, recommended for people in good overall shape who need a challenge. For 16 years' old and up
THE MIDDLE COURSE – blends workout with fun. Suitable for teenagers or adults.
THE LOW COURSE – a lighter, more gentle introduction to rope courses. Designed for older children.
THE CHILDREN COURSE – a rope course and playground in one, equipped with safety nets. For 3-year-olds and above.
ZIP LINES – a fast ride through the trees for children and adults alike.
Fun challenges in the forest at Malta, Poznan will help build working relationships.
While completing various tasks, the participants will define their roles, explore their strengths and weaknesses, and polish up teamwork skills. Activities will reveal natural leaders and develop team's communication skills, as well as improve participants' ability to cope with stress and encourage creative thinking.
Tower of boxes – Building a tower from boxes may not sound exciting. Except in this challenge one of the team members has to add boxes one by one, never leaving the top of the tower. The aim is to build a tower using designated number of boxes within the set time frame. It is worth emphasizing the importance of support of a team. We provide a full climbing protection for this activity.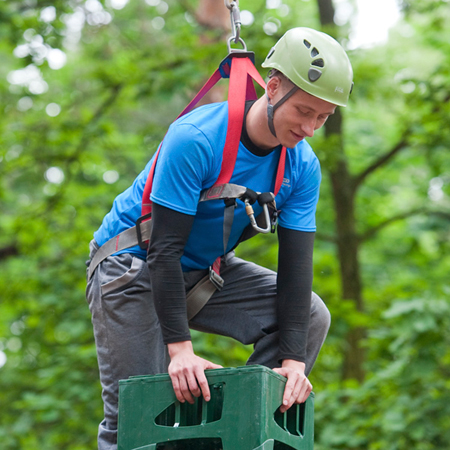 Big Compass – The main task is to construct a big compass using wooden beams and ropes. The team has to select one of the participants to become a compass' operator. The rest of the team has to pull ropes attached to the compass to enable the operator to move to the designated place safely. Collaboration, coordination of actions, communication between team members and efficient division of roles will be needed to succeed in this activity, because even the smallest move is important.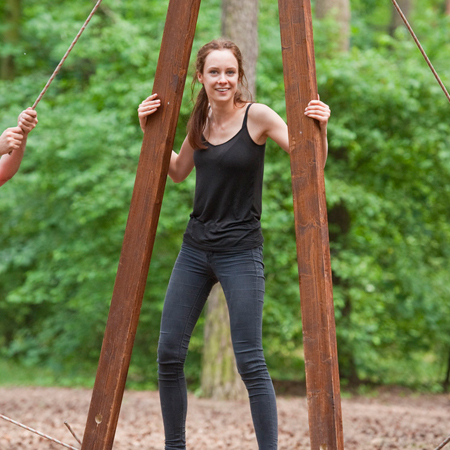 Maze (Team Balance) – The team has to balance the wooden maze to move the ball from point A to point B. Communication and cooperation are of great importance.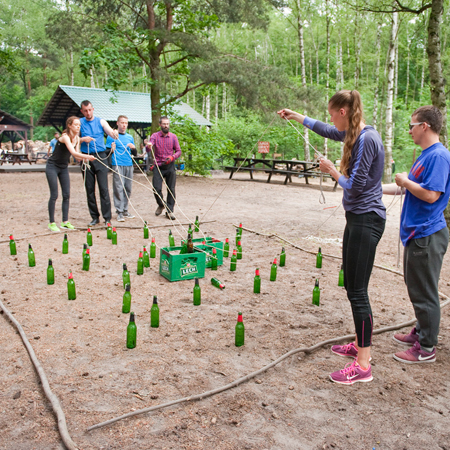 Fisherman – The task is to place the bottles back into the box using a piece of rope between each pair of players. The task should be completed without stepping into designated area where the bottles and the box are placed. The challenge puts emphasis on collaboration, communication and speed.
At Pyrland Park we can organise fully catered events and dance parties. Our infrastructure includes:
Two large wooden sheds and one slightly smaller that can accommodate up to 100 people
400 seats at outdoor tables with benches
Campfires and barbeque grills
Facilities located in a securely fenced area measuring about 0,5 ha
Portable toilet Toi Toi Vip
A wooden dancing platform
Catering (m.in.):
Grilled sausage
Grilled veal sausage
Grilled sausage for kids
Grilled blood sausage with onion
Pork steak  
Chicken Shashlik
Chicken breasts  
Kofta (a savory ball on a stick) 
Hot-dog for kids
Grilled salmon (vegetarian)
Potatoes with cottage cheese (vegetarian) 
Baked Potatoes (vegetarian, vegan) 
Baked potatoes with hummus (vegetarian, vegan) 
Polish Hunter's Stew (Bigos) 
Grilled vegetables (vegetarian, vegan) 
Fresh salad with vinaigrette sauce (vegetarian)
Couscous salad (vegetarian, vegan) 
 Tzatziki
A thick slice of bread, lard, and pickled cucumber 
Soups: pea soup, tomato soup
Homemade cake
Fruit
Popcorn, cotton candy
Ice cream, sweets
Cold and hot drinks